Category Archives:
Blog
To stop Geoengineering, we should learn from the man that exposed and stopped much segregation in the South, Martin Luther King, Jr. King was a master of bringing people of conscience together in order to end injustice. Today, humanity must form a united front and join together to stop death by Chemtrails. Educating others is the foundation of change. This means distributing flyers, speaking to your city council members, confronting air quality district board members, filing complaints, and filing public information and freedom of information requests. Lawsuits must be filed against the Air Force, EPA, Department of Health and Human Services, air quality management districts, and any private contractor or local government that is known to be Geoengineering.
We must continuously e-mail local, state, and national politicians, and stage public demonstrations to increase awareness. The new Skyderalert.com phone application may be helpful with this process. Once ten percent (10%) or more of the public is educated on Geoengineering, organized local and national campaigns will be needed to create tension in order to bring the issue to the public's attention. From there, resolution will be possible at Stopping All Geoengineering.
There are many examples of this process. One is Monsanto's genetically modified crops being banned from much of Europe because millions of people marched to create tension and awareness. Sheila Hemphill defeated smart meters in Brady, Texas. Adam Bonner, a farmer, defeated government CCTV cameras in Australia. Tony Rooke defeated a TV license fee and exposed corruption at the BBC. Michael Allison, the 41-year old Illinois mechanic who faced life in jail for video recording police officers, has had all charges against him dropped after a state judge ruled that his First Amendment rights had been violated, following a trend of similar rulings across the country that underscore the fact that it is not illegal to film police. Now it is our turn to defeat Geoengineering and stop Chemtrails.
CONCLUSION
The evidence demonstrates that the primary purpose of the public nuisance of Geoengineering is to cause bodily injury and premature death with malice aforethought. The Geoengineers are well aware of the consequences of spraying tiny particles aluminum, barium, and other dangerous toxins into the atmosphere.Our mission is to stop them and it will be accomplished if we take continuous action to inform others.
Story – By Paul Adams
http://AirCrap.org/
MASSIVE Government Conspiracy Deceives The Whole Human Race
For those who know the obvious, can there be any greater government conspiracy than the one which covers up the skies around the entire world?
Chemtrails do just that. That's why they represent "The BIGGEST Coverup of All Time".
The governments of the world allow the relentless laying down of chemtrails, which cover up the sky everywhere they are sprayed, and then they outright lie to the unsuspecting public by saying they are just normal contrails!  This is their MO, and they somehow get away with it because of their coordinated collusion with the mainstream media (MSM)
Can you imagine that there are now FAA-established flight patterns which have multiple airliners flying in circles leaving their jet exhaust behind like some teenager doing 'donuts and wheelies' on his motorcycle in the empty school parking lot?!
In other words they would have us believe that the following photo is merely a snapshot of everyday contrail activity.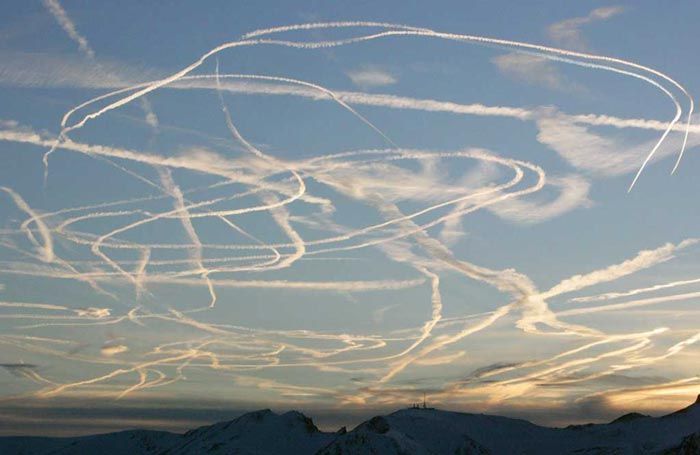 They would also have us believe that the picture below has captured regular contrails being ejected by your average passenger jets?!
Even when the location is no where near a major airport … or any airport for that matter.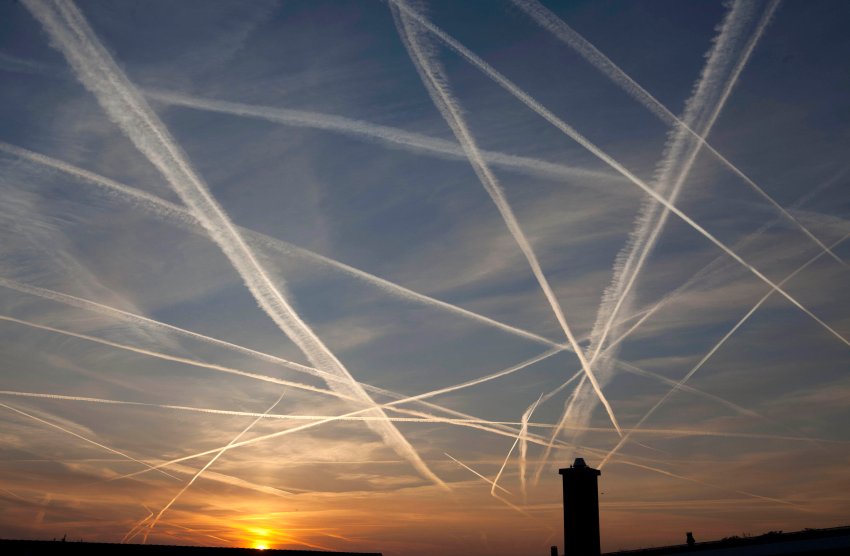 Are the masses of people really that addicted to deception?  
Just how long will the people of the world allow their governments to deceive them with such transparent falsehoods?  Especially when the conspiracy concerns the unrelenting and pervasive blocking of vital and necessary sun rays worldwide.
Who among us is not adversely affected by such an ill-conceived and misguided geo-engineering program?
Is there a farmer anywhere who would not want to know that their skies overhead were being permeated with chemicals which are intended to block the sun?  They refer to this technique as Solar Radiation Management.  By the way some of those chemicals falling back down to earth are downright toxic. What is a certified organic farmer to do with such an impossible predicament?
How about the weathermen and weather-women? How long will they be permitted to present predictably inaccurate weather forecasts to their audiences. How can they possibly predict the weather in light of the obvious and massive impacts that chemtrails have on the local weather patterns across the planet?  How much other human activity depends on accurate weather prediction for both safety and health reasons?
This list of those individuals and institutions who are negatively affected by the global chemtrail program is, of course, extremely long if not endless. The sun, after all, influences the planetary biosphere more than any thing else. Trying to control the primary forces of the sun is not only the height of folly; it is also guaranteed to backfire like so many other harebrained schemes that have been hatched within the antiquated and fundamentally flawed scientific paradigms still in use today.
One does not have to be a rocket scientist to easily understand that the incessant spraying of chemtrails, like the one pictured below, will ultimately produce catastrophic unintended consequences, collateral damage and toxic side effects, often when, where and how they're least expected.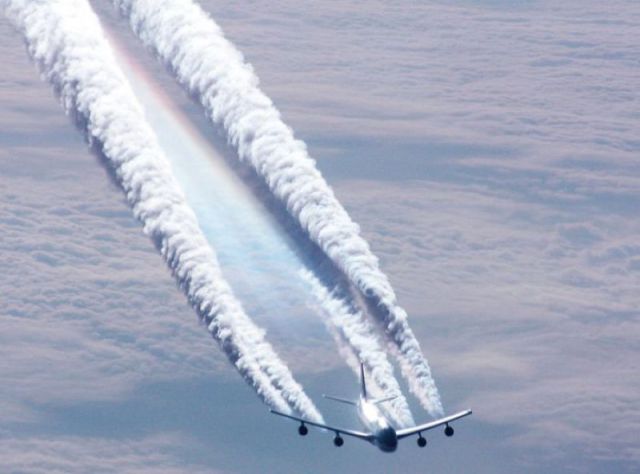 The ongoing conspiracy of silence is as deafening as the conspiracy of deception is overwhelming in scope, reckless in its implementation, and shocking for its complete lack of conscience and intellectual integrity.
Now is the time to ask ourselves as a civilization the following critical question. Have we arrived at a point where we will allow government officials, university professors, research scientists, think tank experts, and many others such as the entire mainstream media (MSM) to knowingly and deliberately lie to the national populations around the world about chemtrails.  Here's a perfect example of MSM running major interference:
MIT – Using Aerosol Injections for Geoengineering » MIT – Using Aerosol Injections for Geoengineering | GeoengineeringWatch.org
Their purposeful deceit and transparent lies increase by the day concerning avery aspect of geo-engineering because so many are waking up (read "looking up") by the day. How can we as a human race continue to accept the multifarious harmful consequences occurring all over the planet 24/7. Are we to remain content just going along with the official lie?
Here is a very recent dialogue on the Colbert Report which brings into sharp relief the degree of deception which is routinely utilized in the promotion of geo-engineering by way of chemtrails. Be sure to watch and listen for both sides of the chemtrail clown act in this video, particularly where it concerns the deliberate and thorough obfuscation of the core chemtrail issues.
An "Open-and-Shut Case" Against David Keith and Kenneth Caldiera
That was David Keith in the video, a Harvard-eduacted, -trained, -sponsored, and -funded scientist who is considered one of the philosophical heavyweights of the current and predominant school of geo-engineering. As chief protagonist for global chemtrailing, he has knowingly misrepresented the geo-engineering program as much as any person alive on the planet. In the words of one fiercely anti-geoengineering advocate, "David Keith is the devil himself, especially where it concerns the aggressive promotion of such an inherently destructive geo-engineering disaster".
The same environmental advocate has also pointed out that "if it is true that the devil is in the details, then Keith is as fast and furious as they come where it concerns omitting and mis-stating the facts". Should the reader question this assertion, please feel free to review the previous YouTube video. The categorical evidence of making so many false statements is enough to convict David Keith as a primary co-conspirator in this ongoing plot to deceive the entire world.
Click on this YouTube video to watch a "lecture by scientist David Keith (Harvard University) on the use of aluminum aerosols for atmospheric geoengineering to combat global warming."
The only way to effectively reveal the coverup and unravel the conspiracy is to expose the primary suspects. By their own words they shall be revealed. David Keith is only one of many who ought to be held to account for denying the existence of chemtrails in the recent past. Other perpetrators, such as Ken Caldiera, also serve to bring their polished credibility and institutional prowess to the table of public discourse. However, up until now, a great majority of folks have simply bowed down to them as though they are the final authorities on all things having to do with geo-engineering.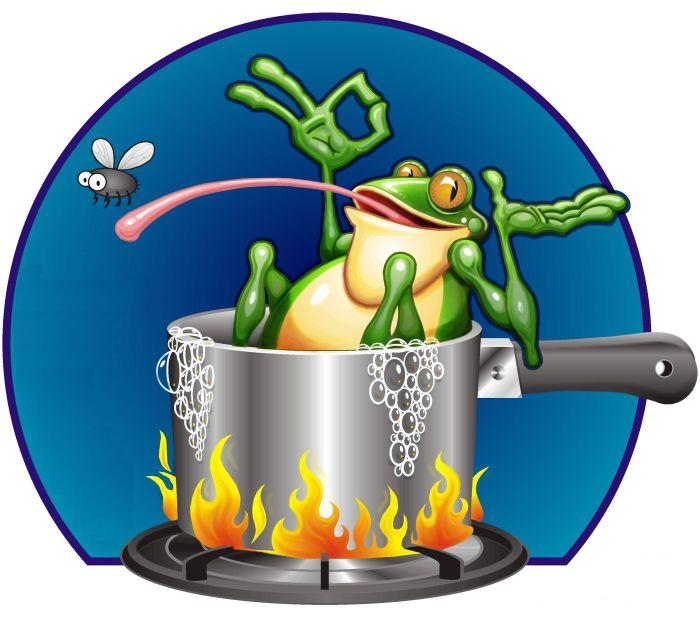 We are all frogs in the boiling water, and chemtrails only turn up the heat.
Such blind acquiescence and ignorant cheerleading by the establishment and MSM is precisely what has created our current global stew pot. That global warming is a reality of our times is now indisputable; even so, they just keep turning up the heat so as to ensure that the worsening planetary predicament will continue to only get worse.
"When scientific knowledge and applied technology reach a critical level of advancement, without being informed by spiritual truths and guided by moral authority, the current civilization will relinquish its right to continue as it is."
~ Cosmic Convergence Research Group
Clearly, the planetary civilization has come to a major milestone. It will either continue down the road to weather armageddon as we have ALL witnessed and/or experienced first hand over the past twenty plus years. Or, we can shake off the misplaced allegiance which so many blindly display for the current scientific paradigms. Just because Harvard and Stanford provide the academic and research platforms for such shockingly ill thought out geo-engineering schemes, doesn't mean they possess an ounce of intellectual integrity.
In fact, so beholden are these 'venerable' institutions to the corporate interests who are actually behind worldwide chemtrailing, that they must now be viewed with great skepticism and justifiable derision. How else are the billions of other residents around the world to take back their home planet?  These heretofore self-proclaimed experts must be outed for using the perilously bad science and untested technology which they carelessly put to work everywhere they want to.
Foul the air and the entire biosphere will degrade to a point of extremely low quality of life for every living inhabitant.  Furthermore, the entire human race risks pushing the planet beyond critical thresholds which just might exceed dire points of no return regarding key scientific parameters concerning human health and the medical markers which now serve as the norm.  Were certain triggers to be pulled, the entire global environment could be sent into a downward spiral which might be irreversible.  Mutually reinforcing negative feedback loops have a tendency toward producing these kinds of planet-wide phenomena, so this word to the wise comes at an exceedingly crucial time in human history.  Mind you, we are talking about what is potentially the greatest unintended consequences to Earth's environment ever seen or imagined.
AWESOME Earth Changes Coming Around The Corner – Can we avert them?
So, one of the most significant questions is: Do we really trust the CIA (see photo below) to implement a global weather modification program with any degree of integrity, or transparency?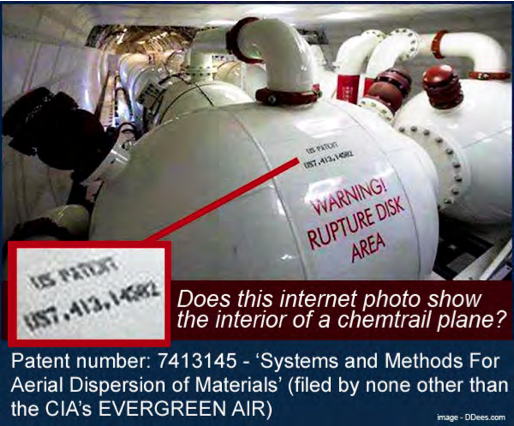 Can the US Department of Defense or DARPA (Defense Advanced Research Projects Agency or DIA (Defense Intelligence Agency) ever be counted on to make decisions that are based on sound (really sound) science or taken in the best interest of the citizenry.  These are war-making entities whose purpose it is to execute military operations and battle plans against enemies near and far.  In those bellicose undertakings, truth is always the first and greatest casualty.  It has always been that way, and it will always be.
The US Government Commits Chemical Assault Against Its Citizen With Chemtrails
In light of these grim realities, We the People have before us an unprecedented societal imperative, as well as unparalleled national necessity.   If ever there was a serious need for a global grassroots movement to shut down an undisclosed, unapproved, black-budgeted, government-sponsored, worldwide, weather modification program that essentially poisons the skies of the world, sky chemtrailing is it.  Every person who looks up to the sky and sees the horrific coverup of chemtrails is surely responsible to do their part.
Therefore, all people of good will ought to be enlisted to do whatever they can to immediately terminate the extremely inferior and dangerous form of geo-engineering known as chemtrails.  They must be stopped once and for all — by all means necessary — wherever and whenever they manifest around the globe.
Should the current generation fail to respond to this call, and do so with all deliberate speed, the viability of Planet Earth will continue to hang in the balance.  Truly, humankind ignores omnipresent atmospheric engineering at its peril.  The livelihood of all future generations has been placed at great risk.  It would seem that those of us who know the truth have the duty to right the course for all of those who have yet to be born on this beautiful blue orb.
Taking A Stand Against The Unrelenting Chemtrail Assault | The Chemtrails Must STOP !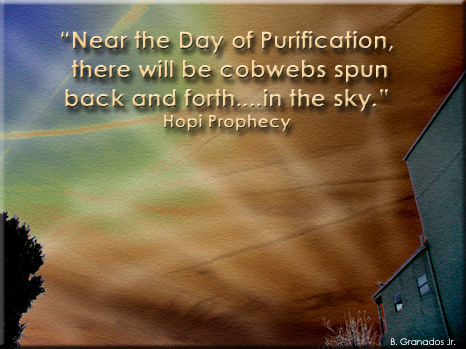 Author's Note:
2013 has seen a flurry of media attention focused on the planetary chemtrail
catastrophe. Wherever the MSM has attempted to put a positive spin on such an
ongoing atmospheric  disaster, it has enlisted the testimony of the David Keiths
of the world.
In this way those of his ilk are being given quite favorable press COVERage in
order to deflect the factual accounts that are being presented by the alternative
news realm.  These so called geo-engineering experts are being set up as the
chemtrail "philosopher scientists" whose authority is not to be questioned and
whose knowledge is not to be tested.
Furthermore, the government's strategy of complication works like this:
Saturate the media with as many positive and/or obfuscating
reports as possible on chemtrails, and the average person will
be overwhelmed by the confusing and often contradictory messages.
Also, frequently and emphatically mention geo-engineering in
the favorable context of being a legitimate means to reverse
Global Warming.
How do you spell C O V E R – U P ?  Not only providing the perpetrators with
MSM COVER, but as usual the MSM is actively participating in "The BIGGESTCoverup of All Time".
© 2013 Cosmic Convergence: 2012 and Beyond
Original post: Video Rebel's Blog
When I was a child, I knew that the elite preferred to use starvation to nuclear weapons because those Hydrogen bombs killed rich people. Starvation was a great weapon in their opinion because it only struck down poor people. I had estimated at that time that at least 2 to 3 million Americans had died from starvation during the Great Depression. I have since learned that between 3 and 7 million Americans actually did starve to death. Of late I have been writing of the Great Starvation which is what I have called the next Great Depression because it will starve at least 10 million Americans to death and kill a billion people overseas.
Of course these deaths and suffering need not be if we had worldwide Debt Cancellation and monetary reform.
Today I want to specifically include Chemtrails on the list of programs designed by the elite to starve 10 million Americans to death. Chemtrails are also being used to degrade the health of Americans so many of them will be too sick to resist the Evil that passes for their government. And, when the plagues are released, the hungry and the sick will have a lowered resistance to diseases created for them in labs.
I also said when I was in high school that America would face a rising National Security State because Wall Street was stealing our pensions, savings and paychecks. This was long before they blew up the Murrah Federal building in Oklahoma City and the World Trade Center Towers on 911.
Chemtrails spray 20 million tons of aluminum oxide, barium oxide and strontium oxide on human beings, plants, trees and the water we all must drink. These metal oxides have been linked to several human, plant and animal diseases.
Aluminum oxide raises the ph level of soil depleting the soil of micro-organisms needed for organic gardening. Trees are dying. Aluminum oxide is an accelerant for forest fires.
Ozone is depleted by aluminum oxide. Cosmic rays are blocked by Ozone.
The videos below present some interesting facts.
The parents of a young girl who was raised on an organic farm in Maui, Hawaii had her hair analyzed. Her hair proved she was poisoned by aluminum.
There are 160 Geoengineering patents. A defender of Geoengineering (Chemtrails) admitted two billion people could have their food sources interrupted while we are Geoengineering the planet. Rephrased in standard American this becomes 'We are willing to starve a couple of billion people to death to conduct our scientific experiment.'
It is claimed Chemtrail combats Global Warming. I personally believe we are beginning a period of Global Cooling much like the Maunder Minimum. Scientists say spraying 20 million tons of aluminum into the atmosphere does cool the planet during the day but it traps heat at night so Chemtrails are ineffective in countering Global Warming.
Chemtrails are said to be part of weather modification. This causes droughts which bankrupt small farmers and send food prices higher all to the benefit of speculators and the GMO seed companies. Monsanto has a drought resistant GMO corn. In the videos below organic farmers say that Chemtrails will put them out of business forcing them to raise GMO crops.
One in ten American teenagers by their 19th birthday have livers functioning no better than senior citizens. This is thought to be due to the rapid increase of GMO High Fructose Corn Syrup in the US diet. A degradation in the functioning of the human liver can only aid the elite in their plans to reduce the population of planet earth.
Several European nations have recently banned GMO food. The European Union Commission overruled the member states and have allowed GMO food. Chemtrails can kill plants and reduce organic food production to force the Europeans to accept GMO food. Weather modification has caused droughts in Africa and Latin America which will also force those nations to accept GMO food.
GMO food fed to animals in labs causes tumors and reduces fertility in the first generation. By the third generation the few remaining lab animals are sterile runts with undersized organs and hair growing out of their mouths.
We the people of Planet Earth deserve the right to say No to GMO food and to Chemtrails.
The elite have had hundreds of studies conducted at their Foundations and at select Universities telling us that we need to reduce the world's population to a billion or so. The mysterious Georgia Guidestones monument says we need to reduce the total world population to 500 million. Since I believe there are a few hundred million more Chinese people than their government admits, I take that to mean there is a well organized group in this world that wants to kill 7 billion human beings.
I ask them this: 'By what right do you justify killing 7 billion people?'
Previously, I have written of the Epicyte corporation which spliced a protein that causes sterility into GMO corn. By what right do they sterilize people who eat corn? The government of the United States has intentionally added cancer viruses and other contaminants to the vaccines they require us to take. The German military refused vaccines given to the general public and successfully received cleaner versions normally reserved for high level politicians.
The food in America is laced with dangerous chemicals that are often banned in other countries. Bisphenol is a plastic used to line cans. It causes cancer and is an estrogen mimicker. It raises estrogen levels in men and women which causes cancer and sterilizes us without our consent.
These additives, the Chemtrails, the radiation from Fukushima, the vaccines and the coming spike in food prices at a time when the dollar is set to collapse will challenge our immune systems. The combination of poor health, the consumption of GMO food, contaminated vaccines and starvation will make billions of people susceptible to a coming series of plagues. MIT released a study saying that when the dollar collapses a half billion people die from starvation and riots and that a few billion will die from plagues.
The question is: why do they want us dead?
Please understand this: Wall Street and the City of London have stolen all of your pensions and savings. The coming currency crash will cut wages in half in the United States and Great Britain. The elite knows that the people will come after them demanding the return of the tens of trillions of dollars they stole from them. The Bankers have designed the National Security State to prevent effective opposition from forming. But they also know when the economy crashes and the Great Starvation begins people will have nothing left to lose. How can you threaten a man or woman with fines and jail if they have no food for their children? The bankers and their friends have decided that instead of allowing reform they will kill us by the billions.
And that is why they are poisoning our vaccines, our food and our water. That is why they are spraying the skies.
They want you and your family and your friends dead.
Reposted from Video Rebel's Blog